Gokudera Hayato

Info
Kanji Name
獄寺 隼人
Romaji Name
Gokudera Hayato
Title

10th Vongola Storm Guardian
Smokin' Bomb Hayato

Gender
Male
Age
14
Status
Alive
Date of Birth
September 9
Famiglia
Vongola Famiglia
Team
Vongola Decimo & Guardians
Weapons
Dynamites
Flame
Storm
Blood Type
B
Height
168 cm
Weight
54 kg
Family
Chapter Debut
Chapter 3
Plot Overview
Edit
Gokudera and Burmuk starts to fight with each other, but are then beaten up by Hibari. They deicide to settle the fight with a bet.
Profondíta Attack
Edit
Gokudera engages in a battle against Refridgerator.
Relationships
Edit
Even if neither one of them wants to admit it, they are pretty close friends and are sometimes seen hanging out together.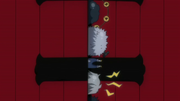 :